Identity and Access management
At Core-CSI, we offer robust, comprehensive, and industry-leading RSA Archer development services. Our seasoned team of RSA Archer professionals specializes in designing, implementing, and optimizing Archer solutions that enhance efficiency, dismantle data silos, and offer a unified view of your risk landscape. This insightful perspective fosters enhanced decision-making across your entire organization.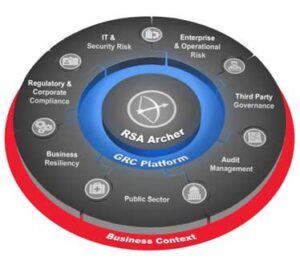 Area of Expertise
Our Archer expertise spans across:
Custom Archer solution design and development tailored to your specific business requirements.
Designing Archer API programs for automation and seamless integration.
Creating all types of data feeds to automate your business processes.
Advanced workflow design, utilizing our extensive knowledge to develop efficient flows while avoiding common Archer Workflow pitfalls.
Designing conditional advanced mail merge reports in a user-friendly format, reinforcing branding, and presenting data in the desired layout.
Permission and access design to ensure secure data handling and sharing.
Reporting design that provides a comprehensive view of your risk landscape.
Archer UI enhancement to promote superior end-user experience.
Archer server management, including architecture design, database migration, and version upgrades.
Implementation and customization of all Archer core use cases and solutions.
We steadfastly adhere to best practice development, ensuring your systems are high-performing, scalable, and easy to maintain in the future.
Areas of Support
IdAM Support Tools
RSA Archer Support
Qualys Support
SAP Support
Tenable/Nessus Support
ESM Support